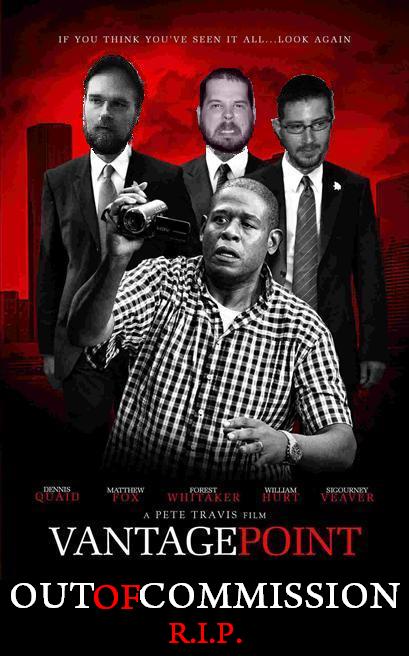 In this final hour of Out of Commission, we say goodbye to everyone and everything. Kaptain Carbon and George Force have made their goodbyes so it is now the turn of Epileptic Peat who writes this final dispatch from the towers of his ivory castle.
Good evening… hold back your tears and show some strength for your little sister, okay? In this final curtain call of an episode for Out of Commission, we toss out the playbook, take off our pinnies and head straight to the showers. We are beebopping and scatting around like crazy, breaking all the rules and giving you an honest, heartfelt farewell. It has been over 5 and half years, 121 official episodes, 6 unaired/unrecorded episodes, a dozen cities of residence, 140+ hours of material for Out of Commission and we all collectively respect it enough to lay it to rest with peace and composure. This episode represents the essence of OOC: 3 friends talking about whatever they damn well please. And while that may not have translated into boastful listener numbers, advantageous sponsors or reliable structure, I believe it offered an honest, hopefully humorous account of our daily lives as longtime friends who were brought together, even by a thin thread of the film genre. Sometimes frustrating, annoying and puzzling all at the same time, our dedication to the podcast premise of movie news/reviews was less out of loyalty and more a fear of starting over. Our once-strong bond to the world of movies faded naturally over time and was replaced by the new direction our lives were taken. It diminished like many things in life and our responsibility to those rubbernecking our common interests is to show maturity on how this is handled. We chose to end the podcast before hurting the integrity of it.

Instead of becoming a sad cliche and proverbially "keeping the band together just to jam on weekends", we are putting to rest this phase of our lives and working on a new podcast that is more catered to our individual strengths. More on that to come…

Regardless, this final 121st episode of Out of Commission is further dedicated to all our listeners who stuck by us through sound difficulties, extended maternity leaves, sabbaticals, AD-SEG, hermitage stints and general negativity about new movies. But can you really blame us on that last point? That assclown Kevin James just needs to choke on a cheeseburger slider and cease being a visual nuisance on the silver screen. We are to be survived by our custom rating system of BUMPIN, SUMTHIN, SLUMPIN and STRAIGHT DUMPIN. We want you to have it. Put it in your back pocket and use it on a rainy day when Battleship comes out. These three hosts have ants in our pants just waiting for your review on that. This is your cross to bear now. Take it like an olympic torch and try not to burn any wheelchair athletes on your way to the finish line.

All is not lost though… in this episode, we do shake our fist one last time at cinema. Epileptic Peat bitches about Lenny Kravitz in the Hunger Games, raves about the Raid: Redemption and vents about the trials and tribulations of threesome hunting and whoopsie daisy strap-on dildo sex. George Force gets hit on by an ugly Rachel Maddow, ponders the new podcast direction and puts us to sleep with one final story. Kaptain Carbon gets all Jack LaLane on us with a new diet, vomits on his husband-mobile after cheating on said diet and faces mortality by embracing Yakety Sax one final time.

It might seem like a moot point but please tell a friend about the show. It will now be purely archival but I do feel we've given some good material here. And though it didn't pick up like we had hoped, we appreciate to no end the people it did reach. Thanks to all those who called and wrote in… even the angry ones. Keep swinging Charlie, maybe you'll give em a cold. Thank you to our hosts/friends Michael Fisher, Michael Zucker, Anthony Caboni, Area Man, the Davidian Compound, Jason Jones, Ben Heckendorn, John McClane and Gavin Ferguson. You're the best… around.

OH MY GOD, THEY KILLED THE PODCAST!!




Epileptic Peat

Kaptain Carbon

Champions of the Universe
Tape Wyrm
Chronicles of Chaos
Pinpoint Music

George Force